Other Carpet Services
At All Star Pro Carpet & Air Duct Cleaning, we offer a complete range of services from the very simple, to the very advanced. With services geared towards the small residential home, up to and including the multi-building corporation, we can structure a service call that will fit both your needs and your budget perfectly. There is no job that is too large or too small.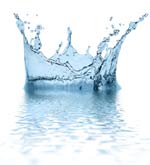 Water Removal - Water can cause a serious amount of damage to any home or business. If you experience a flood, leaking hot water tank or any other emergency, our team of water removal experts can be at your address immediately to remove the water, therefore minimizing damage to your property. We remove the water, remove the odor, clean your flooring and get your property back to normal quickly.
How We Do It:
Water damage is one of the worst things that can happen to your house. If left untreated it can ruin carpets, rot floors and provide a breeding ground for disease. Your professional carpet technician has the tools and experience to make sure this doesn't happen to you.

The first thing your technician is going to do is suck the water out with a powerful, truck-mounted vacuum. Getting the water out of the carpet is only the beginning. Once that's done your professional carpet cleaner is going to pull up the carpet to get at the underlay.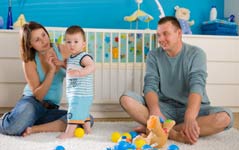 Carpet underlay is like a sponge; the same qualities that make it soft to walk on make it a perfect place to trap and hold water and a breeding ground for bacteria and mold. If possible, you should replace the underlay after a flood. If you cannot replace it you should have it professionally treated by All Star Pro.


In addition to cleaning, your carpet and underlay need to be both sanitized and professionally disinfected, killing any existing bacteria and preventing future growth. LIving in a clean environment protects your home and your health.


Once they've been treated they are also going to need to be dried. This does not mean they need a lot of heat, that just creates a steam-bath and the water will just condense back down into the carpet. What you need for drying is air movement; temperature doesn't matter. As the air passes over the carpet it picks the water up and takes it outside.

Only when the underside of the carpet and the underlay are both completely dry will your professional carpet cleaner let you put the carpet back down. Do not rush this step, you cannot afford to put wet carpet back down as any water that is trapped beneath the carpet can lead to mold.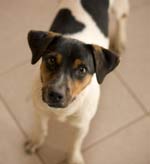 Odor Removal – From mold, fire, water and even pet odors there are plenty of things that can give your home a strange smell. We use specialized cleaning methods to safely remove these smells from carpet, rugs and even upholstery without causing any damage to the fibers. Your home or busisness will be cleaned and freshened like never before!
Stain Removal – Carefully trying to remove the most stubborn stains is simply not easy to do.
Things such as chocolate, wine, and even pet stains can all wreak havoc on your furniture, carpets, rugs and even tiles. We employ specialized cleaners that will help you to restore all of your furniture and flooring to the appearance that they had prior to the stain and restore the beautiful appearance they had the day they were purchased. By removing these stains carefully, we will not destroy any of the fibers, nor will there be any problems or complications with harsh chemicals removing the color from your carpet while leaving the stains intact.
How We Do It:
There's an old saying that a stain is just a spot that won't come out. What most people call stains are just spots that they can't get out. Luckily for them, your professional carpet cleaner has the training, the tools, and the experience to remove spots the average homeowner cannot touch.

The first step is to identify the spot. Different kinds of spots respond to different cleaning solutions; pet urine needs one kind of cleaning solution if you get to it while it's still wet, and a totally different kind of cleaning solution once it has had time to dry.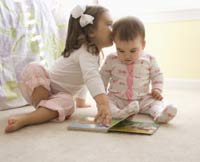 Most cleaning is based on what's called pH – acid versus base or vinegar versus ammonia. Most dirt is acidic, it has a low pH. If we use a cleaning solution with a high pH they neutralize each other allowing the dirt to be rinsed away. Some stains are bases, and regular cleaning solutions can't neutralize them. These spots need to be cleaned with acid-based cleaning solutions such as vinegar.

Once your carpet care professional has identified the spot they can then apply the solution. Depending on the location of the spot and the carpet they may test the cleaning solution to make sure it won't damage the color or fibers. After soaking the spot with cleaning solution the technician will normally put a white cloth over the spot and gently pat it allowing the spot to be absorbed into the cloth.

What your carpet cleaning professional won't do is rub the spot. Rubbing can not only drive the dirt deeper into the carpet, but it can also scratch the carpet fibers, making them look dirty even if they're clean.

The best time to treat a spot is before the rest of the carpet is cleaned, not after. This is most important when you're dealing with acid based cleaning solutions as the residue from the regular cleaning solution will cancel out much of its effectiveness; and that's the last thing you need when you're dealing with a stubborn spot.

Carpet Installation - When you need new carpet installed one call to All Star Pro Carpet and Air Duct Cleaning will get the job done. We have professional carpet installers that will take every care in getting your carpet installed right.
How We Do It:
Anyone can install carpeting; not everyone can do it well. At first glance it appears similar to laying down an area rug but it's not that easy.

With an area rug all you have to do is roll it out and lay it down; one step and you're done. Carpet-laying is a little more complicated. First you have to prepare the floor, then you have to put down the underlay and tackless strip and only then can you lay the carpet. This is one reason why it's best to have a professional handle your carpet-laying needs.

Carpet-laying is based on exact measurements. Wall to wall carpet has to fit the room exactly, with holes for all the vents and no more margin for error than the bottom molding around the walls. Because carpet comes in standard width rolls, either nine, twelve or fifteen feet, and rooms don't follow the same dimensions you may need a seam. Seams have to be placed just so, because they cannot be visible and have to avoid projected traffic areas. All these decisions have to be made before anything goes on the floor.

Once everything has been planned, the next step is laying the tackless strip. These boards are nailed to the floor and have small nails angled toward the walls. Their job is to hold the carpet in place.

After the tackless strip is in place it's time to put down the carpet; even though it rests on top of the underlay it goes down first. This prevents the underlay from being dragged out of place when the carpet is brought in. Once the carpet is in place it's rolled back from half the room at a time so the underlay can be put down. The underlay is stapled into place (glued on a concrete floor) and should be flush against the tackless strip.

Now that the underlay is in place, the carpet is rolled back out and the carpet-layer uses what's called a kicker to stretch it over the tackless strip working from one corner of the room. If the room has molding on the bottom edges of the walls it's replaced to cover the edge of the carpet, otherwise the carpet is pushed down against the wall.

A metal strip is laid across the doorway and the job is done.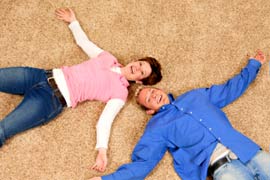 Carpet Stretching - Sometimes carpet "wrinkles" from excess traffic, poor installation or water damage. It is important to get your carpet restreched in a timely fashion so that permanent damage isn't done to the carpet. Our carpet installation team can quickly get your carpet laying flat again. Call today for a free estimate.
How We Do It:
Like anything else made of fabric, carpets stretch under tension. The more people walk on your carpet, the more likely it is to stretch and develop ugly wrinkles for you and your family to trip over.

Luckily, it's not that expensive to have someone come in and re-stretch your carpet. Not only will the carpet look better after stretching, it will last longer too. Nobody will trip on it and it will be less likely to rip as well.

The procedure starts with pulling up the edge of the carpet and removing the tackless strip. Any molding set against the wall is also removed at this point. Once everything is removed, new tackless strip is laid down, usually with new underlay because it's much easier to match underlay to tackless strip than the other way around.

Two main tools are used to stretch carpet, the power stretcher and the kicker. The power stretcher works by pushing against the opposite wall to fasten the carpet to the new tackless strip. Smaller rooms and fine work are handled with the kicker, which is used by one person with no need to stretch it across the room. It's important to stretch a carpet evenly, so that it doesn't develop new wrinkles. One good method is to stretch it along one wall and then move back to the middle of that wall and stretch across to the far wall. After this T-stretch, the carpet-layer works outward in alternating directions, smoothing the carpet so that it lies flat.

Once the carpet has been re-attached the carpet-layer comes along with a cutter and cuts away any excess material (there's always some excess when a carpet needs to be stretched) before cleaning up the edges and replacing any molding if necessary.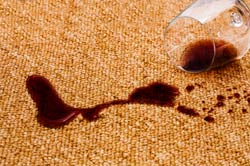 Protective Treatments - When your professional carpet cleaner offers to protect your carpet with a product such as 3M Scotchgard™ they aren't looking for a way to pad the bill. They're trying to protect your investment.

If you were to look at your carpet fibers under a microscope, you would see a rough surface, perfect for attracting and holding dust and dirt particles. As these particles build up in your carpet they begin to scratch the sides of your carpet fibers, creating the tell-tale signs of a heavy traffic area. Once the sides of the fibers are sufficiently scratched; that part of your carpet will never look clean because the scratches look like dirt to the human eye.

Protective treatments work in two ways: they help prevent the damage that causes traffic wear, and also minimize how dirt builds up in your carpet. They are so effective at minimizing dirt build-up that they can actually prevent most stains.
How We Do It:
When your professional carpet cleaner applies 3M Scotchgard™ they lay down a fine mist that covers your carpet. This mist actually coats your carpet fibers with a protective sheath.
This protective sheath prevents fiber damage because the dirt and dust particles have to scratch their way through the sheath before they can touch the fibers. Combining protective treatments with regular cleanings keeps your carpet in better shape longer because damage never has a chance to build up.

The same protective sheath helps prevent stains as well. One reason stains are so hard to get out is because carpet fibers contain something called "dye sites." These are areas that form particularly strong bonds, and so anything that attaches to a dye site is very hard to remove. 3M Scotchgard™ coats the dye sites, making it much harder for stains to stick. It's like covering one side of a Velcro fastener.

This means that a protected carpet both lasts longer and is easier to clean.
Quality and professional service is our top priority. We strive to ensure that no job is completed until you are thoroughly satisfied with the results. We know and understand how valuable your time is and we work diligently to ensure that you are satisfied with the results the first time.
Call Today for your Free Estimate: 770-409- 4547