Atlanta Carpet Cleaning
Trying to keep your home clean without taking proper care of the carpet and upholstery is nearly impossible. We understand this and know the efforts that you place into keeping your home perfect. We take great pride in helping you to clean and freshen your entire home using proven, effective and above all safe carpet and upholstery cleaning methods.
Call Today for your Free Estimate: 770-409-1111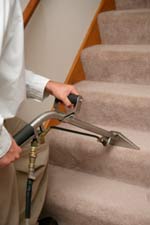 At All Star Pro Carpet & Air Duct Cleaning, we know and understand what you are looking for in a professional company. We offer a money back guarantee as our way to prove to you our willingness to work with you within your budget, and within your specific needs.
While almost all homes have carpet, not all carpets can be cleaned the same way. Different types, styles, colors, stains, and even the type of dirt that your carpet has will all impact the appropriate cleaning method.
The Carpet Cleaning Process:
Carpets and Area Rugs – When a professional carpet technician cleans your rugs, he or she will first examine it carefully to determine what it is made of and its current condition. Most modern area rugs are made from synthetics, but older rugs are often made from wool or even silk. Different materials need different treatments, but the basic method always applies.

Your professional cleaner will first find out what sort of rug they're dealing with, and then inspect it for wear, soiling and damage.

In some cases, we may recommend taking the rug back to our facility for cleaning. A professional cleaner will fold the rug in half before rolling it up, so that the top of the rug is not rolled against the bottom, which could damage it.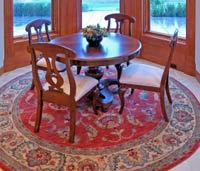 Cleaning is done in three stages: starting with spot removal. Any particularly difficult spots are treated first. Once the spots are treated, the rug is cleaned with a method called 'hot water extraction,' more commonly known as 'steam cleaning.' A cleaning solution is laid down on the rug and gently worked into the fabric where it breaks up the dirt and lifts it away from the fibers. Hot water is then sprayed into the rug, putting the dirt into suspension where it can be vacuumed away with the water. After cleaning, any protective treatments are applied and then the rug groomed before being dried by air movement. Cleaning will not remove signs of excessive wear or damage, but it will bring life back to your rugs.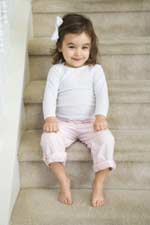 Most modern rugs are relatively easy to clean; synthetic fibers can withstand high temperatures and strong cleaning solutions without difficulty. Some oil-based spots are difficult to remove, but otherwise there are few problems.

Silk and wool rugs provide more challenges: they need gentler cleaning solutions and lower temperatures. They also do not respond well to enzyme-based cleaners which are often used on pet stains. Enzymes break down proteins, and a strong enzyme-based cleaner can eat a hole right through your prized rug. Luckily, our professional carpet cleaners have access to a wide variety of cleaning solutions and can often remove pet stains without damaging the rug.
Area rugs look easy, but they are best left to professionals.
Call Today for your Free Estimate: 770-409-1111